Feel like throwing a Cinco de Mayo Party this year? Tired of only serving margaritas and beer? Why not have a mexican themed feast paired with some of your favorite Claiborne & Churchill wines?
Cinco de Mayo Starter:
Mango Salsa paired with our 2014 Estate Dry Riesling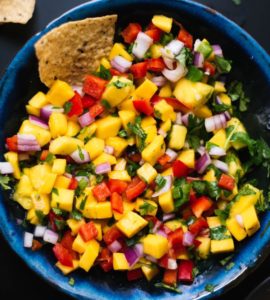 Ingredients:
1 ripe mango, peeled, pitted, and finely diced (about 1 1/2 cup)
2 Tbsp finely chopped red onion
1/2 Jalapeño chile, minced (less or more to taste, make sure to actually taste the chile first, some of them can be quite hot!)
3 Tbsp fresh cilantro leaves, chopped
3 Tbsp fresh lime juice
Directions:
1.Put the diced mango, red onion, jalapeño and cilantro in a medium bowl. Toss with lime juice. Enjoy!
A spicy side dish for your Cinco de Mayo Fiesta:
Stuffed Jalapeños paired with our 2016 Dry Gewurztraminer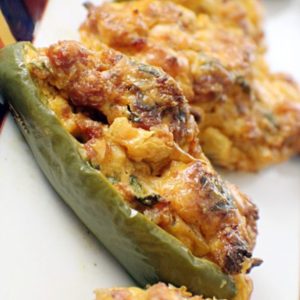 Ingredients
6 slices bacon
12 jalapeño chiles, halved lengthwise with stems left intact, seeds and ribs removed
Salt
4 ounces mild cheddar cheese, shredded (1 cup)
4 ounces Monterey Jack cheese, shredded (1 cup)
4 ounces cream cheese, softened
3 tablespoons minced fresh cilantro
2 tablespoons panko bread crumbs
1 large egg yolk
2 teaspoons lime juice
1 teaspoon ground cumin
Directions
1. Place oven rack in upper-middle position and heat oven to 500 degrees.
2. Cook bacon in 12‑inch nonstick skillet over medium heat until crisp, 7 to 9 minutes. Transfer bacon to paper towel–lined plate. When bacon is cool enough to handle, chop fine and set aside.
3. Season jalapeños with salt and place cut side down on baking sheet. Bake until just beginning to soften, about 5 minutes.
4. Remove jalapeños from oven and reduce oven temperature to 450 degrees. When cool enough to handle, flip jalapeños with their cut side up.
5. Mix cheddar, Monterey Jack, cream cheese, cilantro, panko, egg yolk, lime juice, cumin, and bacon together in bowl until thoroughly combined.
6. Divide cheese mixture among jalapeños, pressing into cavities.
7. Bake jalapeños until tender and filling is lightly browned, 9 to 14 minutes. Let cool for 5 minutes. Serves 6-8.
Cinco de Mayo Main Course:
Carnitas paired with our 2015 Twin Creeks Estate Pinot Noir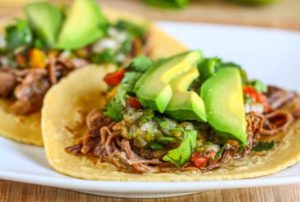 For Pork Carnitas
2 1/2 lbs pork shoulder
1 tbsp lime juice
2 tsp coarse sea salt
2 tsp ground cumin
1 tsp chili powder
1 tsp garlic powder
1 tsp oregano
1 tsp onion powder
1/2 tsp ground black pepper
For Tacos & Toppings:
corn tortillas
slices of avocado
cilantro, roughly chopped
red onion, diced
slices of lime
Directions
Cut pork shoulder into large 3-4 inch chunks, removing any excess fat.
Place pork in slow cooker.
Combine all other ingredients in slow cooker.
Stir to mix thoroughly.
Cover and cook on high for 4 hours or until very tender.
When tender, pull apart with a fork.
Serve on warm corn tortillas and top with onions, cilantro, avocado slices and lime juice!
Cheers!