We are excited to announce our 2015 PortObispo dessert wine is now available just in time for Valentine's Day! Grab a bottle here to share with your special someone or to end the meal at your next dinner party.
We make our PortObispo in the traditional fashion, vigorously fermenting ripe red grapes until the sugar level has dropped to around 6%, and then fortifying the wine with grape spirits to an alcohol of 18%, at which level the wine stops fermenting and remains sweet. The wine is then aged for 15 months in well-seasoned oak barrels.
There are many occasions when one can enjoy a glass of this smooth and balanced (and downright yummy!) PortObispo, but the classic food pairing is with a rich chocolate dessert.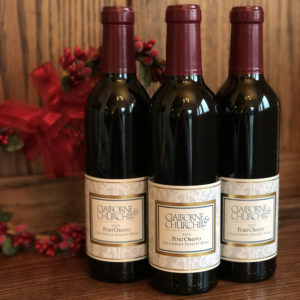 Quick Bites with PortObispo:
Soak dried cherries overnight in PortObispo, then pour over vanilla ice cream
Poach crisp winter pears in a mixture of PortObispo, water, little orange juice, splash of brandy, little sugar, cinnamon stick, and a few cloves. Serve with a dollop of whipped cream!
Hollow the center of a piece of cantaloupe, then fill with PortObispo
Toast some walnuts over the fireplace. Pair with crackers, a slice of Stilton cheese, and PortObispo
Chocolate Fondant Recipe: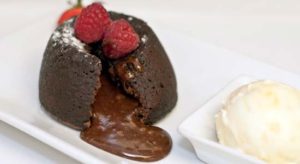 Ingredients (serves 4):
Some Cocoa powder for dusting
4 tablespoons butter
4 ounces bittersweet chocolate
1/3 cup of sugar
3 eggs
1/3 cup of flour
Pre-heat the oven to 375 degrees.
Butter four large muffin tins or ramekins and dust them inside all over with cocoa powder. Melt the chocolate and buttering a pan over hot water, stirring until smooth and blended. In a separate bowl, whisk the eggs and sugar until fluffy. Gently fold in the chocolate-butter mixture and then the sifted flour. Pour into tins or ramekins and bake until the tops are cooked slightly firm to the touch, but the insides remain hot and molten. This can vary from 8-15 minutes. Turn out onto dessert plates and garnish with a scoop of vanilla ice cream with fresh berries. Enjoy!