In previous installments of this brief "history" of Claiborne & Churchill, I have described how in 1981 Fredericka and I left our academic careers in Michigan behind and started a new life in the California wine industry. The first three vintages of our own wine (1983-85) were produced in a small corner of the Edna Valley Cellar, where I had finagled a job as a "cellar rat."
In 1986 I left my job at Edna Valley, and we moved our production into a warehouse unit in a San Luis Obispo industrial park fondly known as "The Gourmet Ghetto." (Both San Luis Sourdough and The Spice Hunter, hugely successful businesses, had begun there.)
In the hopes of establishing our own vineyard and winery, we searched far and wide for a property we could afford, and in 1990 finally purchased a six-acre parcel in the heart of the Edna Valley, with frontage right on Highway 227. An older house and a newer one stood at either end, with a large field in between, once used for dairy cows and then for horses. It was on this field that we wished to build our new winery.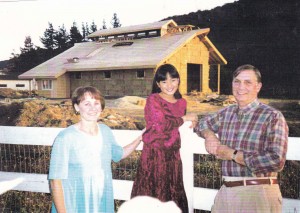 We wanted a winery building that would fit the rustic, rural environment, and on the recommendation of a friend we hired an architect (Marilyn Farmer) known for her dedication to environmental concerns and sustainability. We had in mind an old-fashioned country barn, and this was indeed the first sketch we were presented with.
Our architect, however, had another idea to "pitch" to us: Straw BaleConstruction. She showed us a video of this kind of "environmental architecture", where stacked bales of straw (recycled from the stubble in the rice fields north of Sacramento) form the walls of a building. We were a little hesitant at first, but we were promised three things: (1) lower construction costs (no 2×4 studs, no dry wall, no fiberglass insulation), (2) ongoing energy savings (the bales rated at R-65), and positive PR, since we were doing our part to "save the planet!"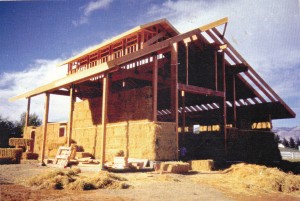 We took the challenge and with the help of an SBA loan through our local banker (with whom we still bank some 31 years later)., we broke ground in August of 1995. The grading an excavating was done, the pad was poured, the post-and-beam structure was built within a couple of months. We then brought in a truck of 400 bales of rice straw, and scheduled a "barn raising."
The word went out through the community of environmentally minded souls, and on a crisp Sunday morning in November some forty or fifty people showed up, where under the supervision of experienced straw bale contractors they raised the four walls of our new winery. At the end of a long day we hearty meal of lasagna accompanied by a generous flow of wine!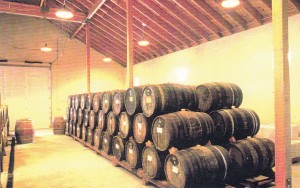 By the end of the year (after a nasty rain-delay) the walls were covered inside and out with three layers of stucco, and it was time to move our production from the old warehouse in the Industrial Park to our new quarters. We accomplished this at the end of January (1996), working round the clock for 36 hours, to meet the January 31st deadline.
Our winery has the distinction of being not just the first Straw Bale Winery, but California's first commercial straw bale building at all, nosing out a Real Goods store in Mendocino by a few weeks. It has inspired other straw bale wineries around the world and has delivered all the advantages we were promised. It has held up beautifully for all these 18 years, including an earthquake in 2003, from which we emerged completely unscathed. And, despite our fears: no bugs, no mice, no critters of any sort, no mold, no rot, and so far the Big Bad Wolf has not come a-calling!