Yes! The term Wine Library refers to a winery's supply of bottles from earlier vintages that are properly cellared and are no longer available for purchase. At Claiborne and Churchill, we like to reserve a few cases of our various whites and reds from older vintages, saving them for special events. Bringing out library wines allows our customers to experience the difference between a young and a mature wine. Sampling library wines also gives some of our club members a chance to taste what might still be in their cellar at home, and decide if it's time to drink or continue to let the flavors develop in bottle.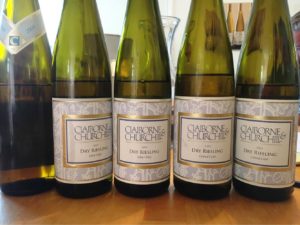 So, guess what? We have a selection of Library Wines waiting to be tasted!
On May 5-7, 2017, we will be pouring our precious "wines from times past" each day with a different theme to each day of the weekend. Winemaker Coby Parker-Garcia is particularly excited about the 2007 Runestone Pinot noir. Coby emphasized that the 2007 vintage was a stand out year and that "a vintage like that comes around once in 20 years." On the day that Coby and assistant winemaker Zack Geer were tasting all of the different Runestone Pinot Noir vintages, some of us were fortunate enough to take home the 2008 Runestone. Trust me, you do not want to miss out trying these incredibly smooth, delicately aged Pinot Noirs, along with the older Riesling vintages that are showing beautifully. For more information about the events for this weekend check out our website here or read below. Click here to buy some tickets and experience some brilliantly aged wines for yourself!
Friday: May 5, 2017 Winemaker Dinner with Chef Brian Collins of Ember Restaurant
Join us on Friday, May 5th, for the ultimate food & wine dining experience! Enjoy five gourmet courses prepared by renowned chef Brian Collins of Ember Restaurant. This elegant dinner will be hosted by our owners Clay and Fredericka Thompson and winemaker Coby Parker-Garcia in our barrel room. Each course will be paired with some of the best library wines from our collection.
$120 Cellar Club Members | $130 Non-Members  |  Purchase Tickets
Time: 6pm
Saturday: May 6, 2017 Wine Library Grand Tasting
Experience a tasting showcasing the best vintages of our library wines. You'll have the opportunity to taste and purchase from among two dozen white and red wines which have been carefully cellared for several years.
$15 Club  |  $25 General Admission  |  Purchase Tickets
Time: 1-4pm
Sunday: May 7, 2017 Wine & Cheese Pairing (Featuring Library Wines)
"Wine down" on Sunday in our garden patio with a flight of library wines and a gourmet cheese plate by Fromagerie Sophie. Each cheese has been specially selected to pair with these stellar wines.
$18 Club  |  $24 General Admission  |  Purchase Tickets
Times: 11:30am | 1:30pm | 3:30pm
Cheers!