What number harvest is this for you?
"This will be my 12th professional harvest, not including the two "learn by doing" harvests at Cal Poly."
What music do you like to jam to during harvest?
It really depends on where we're at during the season. If I'm out sampling grapes, something mellow. But if I'm doing punch downs or hard cellar work I like to listen to reggae or classic rock. And if I'm driving to go check out vineyards I enjoy listening to sports talk radio.
With such a warm dry winter and early bud break, how has it affected this year's harvest?
This is definitely one of the earliest harvests in California history and Edna Valley history. It's the first time we have ever picked Pinot Noir in August. Grapes are tasting very good at lower sugar levels, yields are average, high quality, no rot, and very good uniformity in the vineyard.
I would say the good thing about having such an early harvest is that you get it done sooner and life on the central coast during fall is some of the best weather. So we should be done harvesting all of our grapes by the end of September, which means that we will get to enjoy a little bit of October.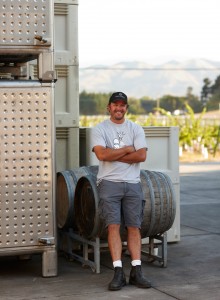 Are there any new wines in the works for the 2014 vintage?
We're going to keep most of our portfolio the same with the addition of another Malbec. We are making a 2014 Malbec from Santa Margarita Ranch.
Which wine growing region has had the most influence on you?
I would say it's a split between Burgundy and Alsace. These two regions are two of my favorite regions in the world, not only for how beautiful they are but the style of wines and the class of wines they produce.
What is your favorite beer to drink during harvest?
Anything that is cold and wet. Typically I like IPA's however they can be a little big and a little bitter, so I would say Pacifico is probably one of my favorite beers to drink after a long day of work, it really quenches my thirst!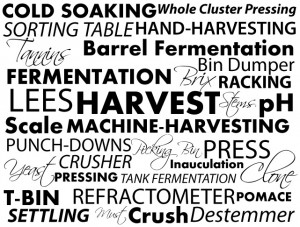 Veiw a list of Commnon Harvest Terms here.