Read below for a description of each Fromagerie Sophie and Claiborne & Churchill pairing, and if you like the sound of these, come in to our tasting room today to try them! See our Wine and Cheese Pairing Part I and II here.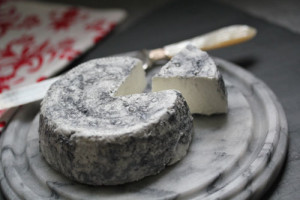 4. 2013 Runestone Pinot Noir with Selles Sur Cher
When we had our staff tasting with Fromagerie Sophie, we learned that wine and cheese pairings should be complementary, delicious, and memorable, but that the best pairings are surprising. You can't go wrong with goat cheese and Pinot, but this pairing of Claiborne & Churchill Runestone Pinot Noir and elegant Selles Sur Cher, a soft, french goat's milk cheese dusted in black vegetable ash, really shocked us, and in a good way. Like the Runestone Pinot, this cheese has a long, fascinating finish that develops in the mouth over time.
The Mold and the Beautiful
The use of ash in cheesemaking is a technique that's hundreds of years old. Originally meant to preserve the surface of young cheeses, it is now known that the use of ash helps in the development of beautiful, distinct surface molds, like those that you will find in this Selles Sur Cher goat cheese.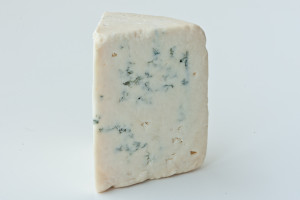 5. 2013 Syrah with Beenleigh Blue
Nothing pairs better with a bold, spicy red wine than blue cheese, and this pairing is no exception! Beenleigh Blue is a pasteurized sheep cheese made with vegetable rennet. It comes from Sharpham Barton, in South Devon (Southwestern England). The remarkably mild, elegant blue-veined cheese has unique, sweet aromas of nectar and honeysuckle, and its semi-soft, fudgy, flaky texture reminds us a bit of coconut. Only a few bottles left of this delicious Syrah!
All About Ewe
According to one of Beenleigh's distributors – Neal's Dairy Yard, in the UK – the milk for this English cheese comes from a flock of 250 ewes who graze on grass and clovers in the summer. Based on the time of year the cheese is made, it may take on distinct flavor characteristics: winter cheeses are more light and citrusy, while summer cheeses are more robust and earthy.
Enjoy these Pairings With Us
These pairings are a truly remarkable way to experience our fine wines and the incredible cheeses that Sophie and Paul have scoured the world for, bringing the best that Europe has to offer here to our little town on the Central Coast. Come experience these pairings daily at our Claiborne & Churchill tasting room, open daily from 11-5, and when you are done, stop by Fromagerie Sophie on Garden Street and pick up some cheese to pair with wines at your next gathering!
Wine Tasting Flight: $12 (Free for Cellar Club)
Cheese Plate with Pairing Guide: Small $12 ($9 for Cellar Club)
See our Wine and Cheese Pairing Part I and II here. Hope to see you in the tasting room soon!