Gewürztraminer is a mouthful, in more ways than one. After 30 years of making, selling and championing wines from this lesser-known variety, Claiborne & Churchill Winery Founder, Clay Thompson, knows enough about its history, foibles and triumphs to be dubbed "The Godfather of Gewürz" by staff and all who know him. And with the recent release of C&C's Alsatian-style 2014 Dry Gewürztraminer, this fascinating grape is most definitely on his mind.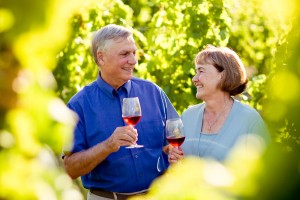 What does this crazy German word Gewürztraminer mean?
Clay Thompson: "Gewürztraminer" is actually TWO words. The first part ("Gewürz") is a normal German noun, meaning "spice." The second part ("traminer") is not a normal noun but a variant of a place-name, a town called "Tramin," located in the German-speaking area of Northern Italy.
What are Gewürztraminer's origins?
For decades we've all been spouting the party line that the Gewürztraminer grape originated in Tramin/Termeno, and in fact there are thousand-year-old records of a wine there called "Traminer." Now along comes DNA research showing that Traminer is actually a variant of a somewhat obscure grape called "Savignin Blanc" (not to be confused with Sauvignon Blanc), and its home is northeastern France and Southwestern Germany rather than northern Italy.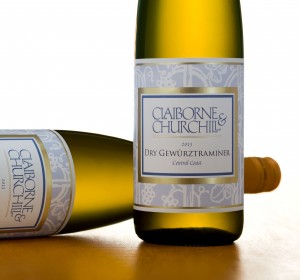 How and why did you get into Gewürztraminer?
My wife [partner, Fredericka Churchill] and I were always rather "European" in our wine preferences. We were both very fond of German and Alsatian wines, so when we got this wacky idea to leave our comfy jobs in academia and move to California "to start a winery" (as if that were a simple thing to do), we took our inspiration from those wines. In the summer of 1983 we went to Alsace and hiked along the "Wine Road" from village to village, tasting the wines and talking to the vintners. We came back inspired and in the fall bought eight tons of Gewürztraminer and Riesling grapes from a local vineyard and made the first vintage – 550 cases – of Claiborne & Churchill.
How does Alsatian-style Gewürztraminer differ from, say, German Gewürztraminer?
It's generally agreed that the Alsace versions of this wine are more aromatic than their German or Italian cousins. But historically there is another major difference between Alsace wines and the German wines across the border. In a nutshell: Germans make 'em sweet, Alsatians make 'em dry. Everybody knows how lovely the delicate sweet Mosel wines are (and how cloyingly sweet the inexpensive versions like Liebfraumilch are). And everybody knows how firm and dry and well-structured an Alsatian Gewürz or Riesling is. For years we have explained our C&C wines in this way. If I had a nickel for every time I've said, "try it, it's fruity but dry," I could have retired long ago.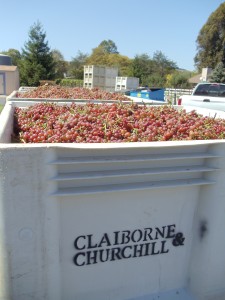 Where does C&C Gewürztraminer come from?
In the early years, our Gewürz came from here in the Edna Valley, then from neighboring Santa Barbara and Monterey Counties, finally settling on the latter; especially the Arroyo Seco area, where a very cool microclimate produces wonderful aromatics.
What are the typical aromas and flavors associated with wine made from Gewürztraminer?
Some common descriptors are quite flattering ("damask rose" as one wine writer said of ours), and some, really weird ("cold cream"). The most common is probably lychee. Sometimes Gewürz goes through a grapefruity phase as it develops, and takes on rich and heady notes of ginger, allspice, and other baking spices.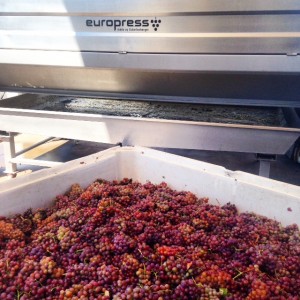 What are the challenges of making it?
As Gewürz ripens on the vine, the famous spicy flavors and aromas start to develop just as the acidity starts to drop. It is important to catch this moment and harvest it before the acid disappears, leaving you with a very flabby wine. In the cellar, fermentation should be temperature controlled (i.e. cold), so you don't lose all those aromatic esters.
How long between harvest, bottling, and release?
At C&C, it is always the first wine to be bottled, soon in the new year. It can be released after a few weeks' bottle-aging, although there is something very special about an older (five to ten years) Gewürz, when it has acquired the rich and complex patina of age.
How do you enjoy Gewürztraminer best?
I enjoy Gewürztraminer best in months that contain a vowel, preferably on days that contain a "d." But seriously, it is not only a great aperitif wine, but is also a great wine to pair with spicy, exotic, foods like Thai, Indian, Szechwan, and Japanese. It also matches up well with those in-between dishes, like pork, ham, turkey and salmon.