Thanksgiving and other holiday meals have always been interesting for those who care about wine-and-food pairings. The wide array of different spices and sweetness levels at the traditional Thanksgiving dinner table presents challenges, and probably no one wine can solve the problem alone (though many would propose Dry Gewürztraminer as a solution). However, some wines (Cabernet, Petite Sirah, Sauvignon Blanc) would likely be ruled out altogether. At the Thompson's table, where ten or twelve people of different ages and different tastes are seated, they solve the problem by opening one or two Alsatian-styled wines (Gewürztraminer and/or Riesling) and a Pinot Noir. These represent the most adaptable and food-friendly wines we know!
The Thompson's have served this Sweet Potato Soufflé at their Thanksgiving dinner for over thirty years. We think it adds a light and elegant touch to a meal that can otherwise get a little heavy.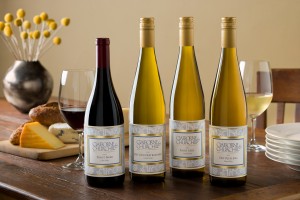 RECIPE:
Prepare the sweet potatoes by boiling them in water, peeling off the skin and chopping them into chunks, or by baking them in the oven, halving them and scooping out the pulp. In a Cuisinart or other food processor puree the sweet potatoes along with the brown sugar, melted butter, egg yolks, lemon rind and orange juice. When completely blended pour into a buttered baking or soufflé dish.
In another bowl beat the egg whites until stiff, then fold them gently but thoroughly into the sweet potato puree. Bake in a 350º oven for 45 minutes.
INGREDIENTS:
4 sweet potatoes
half-cup brown sugar
half-cup melted butter
4 egg yolks
1 Tbs. grated lemon rind
1 cup orange juice
4 egg whites