Last week the staff at Claiborne & Churchill came together for a fun evening. Clay & Fredericka hosted a Dinner on the Deck at their home. This evening under the stars was filled with some great wine, great food, and great company. We all enjoyed the opportunity to spend time together outside the winery. This event was dedicated to one of our favorite varietals, Pinot Noir.
Coby, our winemaker, led a tasting challenge.  Similar to a party example in our last blog post, we had to match the bottle of wine to the wine region provided. The regions to pick from were: Oregon, Santa Barbara, New Zealand, Burgundy, Sonoma, and San Luis. We had a great time and were truly stumped at some of the pairings.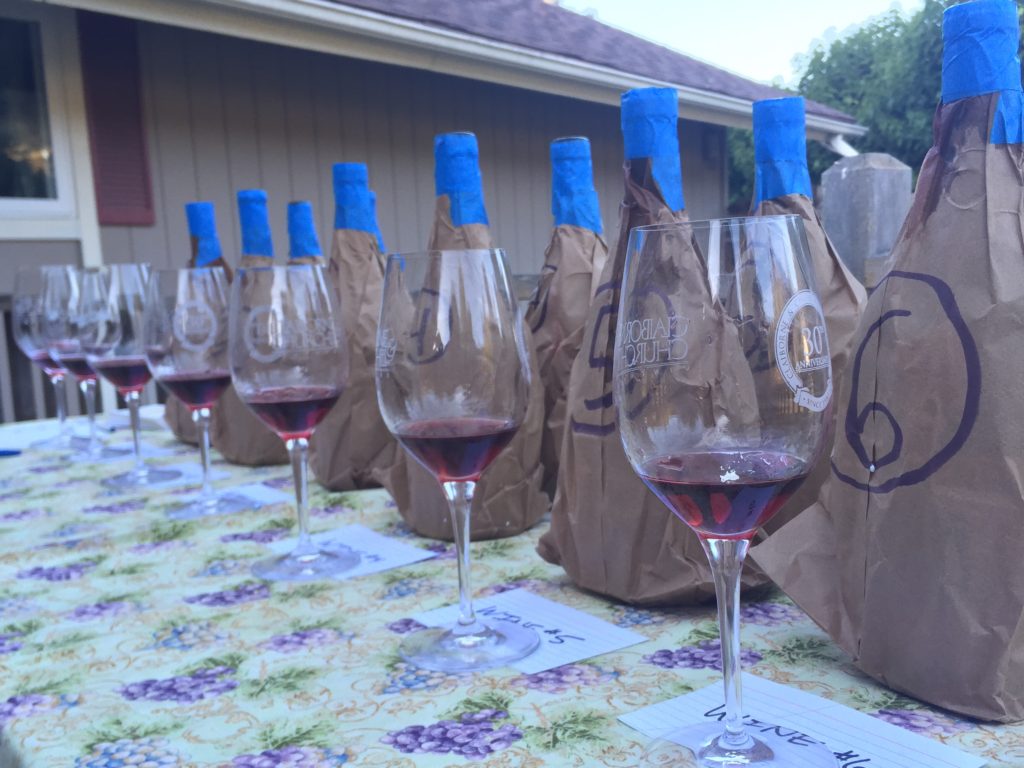 ---
2014 Marlborough Pinot Noir
Winery: TWR – Te Whare Ra
Region: New Zealand
This wine is a mix of two different vineyards in New Zealand. Harvest was in March of 2014 after what they call a "textbook summer." It spends 11 months in French oak with 796 cases produced.
2012 Chorey-lés-Beaune
Winery: Tollot-Beaut
Region: Burgundy
The winery produced two cuvees that will be merged to form a blend the January before it is bottled.
2014 Pinot Noir
Winery: El Lugar
Region: Santa Barbara
The fruit for this wine is from Santa Maria and uses two clones: Pommard & Martini. It was harvested in August of 2014 and it spent 11 months in French oak barrels. It was bottled nearly a year later and 164 cases were made.
2012 Russian River Pinot Noir
Winery: Alysian
Region: Sonoma
This wine was made of six different clones from five different vineyards, which are all Russian River vineyards. Then, it spent fourteen months in barrel with about 30% of that being new French oak.
2013 Select Pinot Noir
Winery: Brick House
Region: Oregon
This 'Select' wine includes fruit from all of this winery's Pinot Noir clones and blocks. After spending 15 months in neutral French oak, this wine was bottled in February 2015. They produced 535 cases of this barrel select wine.
2014 Classic Estate Pinot Noir
Winery: Claiborne & Churchill
Region: San Luis Obispo
The Estate Twin Creeks fruit included three clones: #113, 2A, and Martini from the Edna Valley. After harvesting September and early October 2014, it aged for 10 months in 35% New French Oak. This 29 barrel blend then was bottled in August 2015 making 787 cases.
---
All of the staff had a great time trying to match up these delicious Pinots with the region they originated from. After this tough test, we enjoyed a number of other great Pinots with dinner. Pinot Noir has had a home at Claiborne & Churchill for decades and we loved getting to see how other regions are utilizing this amazing grape.