The white varietals of the Alsace region in France are extremely versatile and can be made into very sweet wines or very crisp dry wines.  Here at Claiborne and Churchill we have made Gewurztraminer, Riesling, Pinot Gris and Muscat for over 30 years in a dry style.
Since Rieslings are made in a variety of sweetness levels, how do you know if your bottle is going to be dry or sweet? Most wineries will specify on the bottle, but not all do! Even if it says 'sweet' or 'dry', you can not trust what's on a label because there is no scientific definition of these terms and it's simply the winery's interpretation. So, exactly how dry or how sweet are these wines?
The International Riesling Foundation, IRF, has the answer. The group created an official scale for Riesling wines to let the consumer know just how sweet or dry it is. The scale can be used on bottles, any promotional material, or even verbally to help explain the taste of that wine.
There are four categories for the scale: Dry, Medium Dry, Medium Sweet, and Sweet.

The winemaker calculates the ratio of residual sugar to acid in the wine. The smaller the ratio, the dryer the wine; the larger the number, the sweeter the wine. The winemaker then measures the pH of the wine to determine the specific category it fits in and where the arrow should be placed on the scale.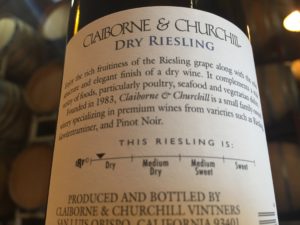 Claiborne and Churchill utilizes the Riesling Taste Profile to showcase the dry yet crisp qualities of Riesling that our winery is so well known for. We have seen that it is really helpful for our customers and hope it will spread to some of our other white varietals. Keep your eye out for the IRF's scale on your next bottle of Riesling or come on in and grab a bottle of our newly released 2015 Dry Riesling!