We are excited to announce the release of our 2013 PortObispo!
Port or "port-style" wines have always been a perfect accompaniment for a wide range of desserts and after-dinner snacks, from artisan cheese plates to savory cheesecakes and dark chocolate.  We classify our PortObispo as a California dessert wine, rather than a port since only sweet, fortified wines that are aged and bottled in the Douro region of northern Portugal can technically be named port -or- porto.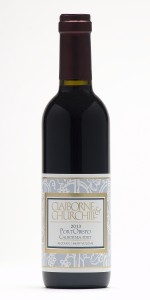 When it comes to port, there are various methods and styles to making this classic wine.   For instance: tawny ports age extensively in barrel, sometimes as long as 20 years. As it matures, the wine develops deeper, more complex characteristics while its color fades to a brownish, tawny hue. They range in sweetness, from sweet to medium dry.  Ruby ports, known for its deep, ruby color, traditionally spend less time in barrel so it can retain more of its natural color, and sweet, fruity characteristics from the grapes.
Though our PortObispo is produced in more of a traditional ruby port style than a tawny port style, it is definitely influenced by the California-style of winemaking.  Rather than, say, Touriga Nacional and Tempranillo, we picked late-harvest Pinot Noir from the Edna Valley and Merlot from Pozo Valley to make the 2013 PortObispo.
The ripe and juicy fruit is punched down several times a day, before and after fermentation to achieve maximum color and flavor. We then add wine spirits in sufficient quantity to stop the fermentation while the wine is still sweet (8.5% residual sugar/18.4% alcohol).  The wine then barrel ages for 15 months in neutral French oak before bottling.
The end result is a bottle full of delightfully sweet dessert wine.  Enjoy a glass of this smooth and balanced PortObispo with Stilton cheese or a flourless chocolate cake.  In fact, our very own Robyn Tanner was kind enough to share a recipe for you to try out.  Enjoy!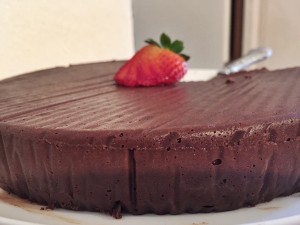 FLOURLESS CHOCOLATE CAKE
Ingredients
1 lb. bittersweet chocolate, chopped (56% cacao semi-sweet chocolate also worked)
16 tablespoons unsalted butter, cubed
1/4 cup strong coffee
8 large eggs
Directions
Preheat oven to 325 degrees. Grease 9 inch springform pan and line bottom with parchment paper. Melt chocolate, butter and coffee together in the microwave for 1 to 3 minutes, stirring frequently until smooth. Using a stand mixer, whip eggs together for 5 to 10 minutes on high until very thick. Gently fold the eggs into the chocolate mixture using a third of the eggs at a time. Combine until no streaks remain. Pour the mixture into the prepared springform pan. Cover the bottom of the pan with 2 large squares of tinfoil and rest inside a larger roasting pan. Pour boiling water into the larger roasting pan until it reaches half way up the sides of the cake pan. Bake for 18 to 20 minutes, or until a thermometer inserted an inch away from the pan's edge reaches 140 degrees. Do not overbake! Remove the pans from the oven and let sit together for 45 minutes. Remove cake pan from roasting pan and let cool on a wire rack for 2-3 hours. Run a sharp knife along the cake's edge to separate it from the rim. Refrigerate overnight. Before serving, remove the cake from the springform pan, slice carefully and garnish with powdered sugar and strawberries.
Comments