If you haven't met them, Sophie and Paul Boban-Doering are the owners of Fromagerie Sophie, a cheese shop in downtown San Luis Obispo that has quickly proven itself to be one of SLO's most treasured and unique gems. When Sophie and Paul opened Fromagerie Sophie, the cheese game in SLO was immediately elevated, and no one is more appreciative of that then those in the local wine industry.
Here at Claiborne & Churchill, we finally have the opportunity to offer our guests a fantastic new tasting experience: a flight of five wine-paired cheeses from Fromagerie Sophie! Each pairing was painstakingly and lovingly selected, and the cheese plates are offered daily in our tasting room. Recently, our tasting staff had the pleasure of receiving an educational cheese tasting with Paul, and we couldn't be more excited to talk about these cheeses with you and share some of the stories that he passed along to us! Each day this week, we'll be telling stories about a different cheese from our cheese flight.
Read below for a description of each Fromagerie Sophie and Claiborne & Churchill pairing, and if you like the sound of these, come in to our tasting room today to try them!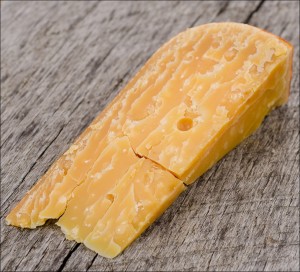 1. 2014 Dry Gewürztraminer with L'Muse Signature Gouda
Our well loved Gewürztraminer, with its bright, spicy aromas and notes of lychee, is the perfect pairing for this caramely, aged gouda from Beemster, Holland. L'Muse Signature Gouda is aged for two years, and is deep amber in color with well-distributed protein crystals. Creamy with slightly salty, nutty notes, this cheese has a deep, complex, and long finish that sets off the bright acidity, spice, and tropical fruit of our Gewürztraminer!
What's that crunch?
You'll notice this cheese has some tiny, crunchy crystals in it, giving it a remarkable texture. The crystals found in exquisite aged goudas, cheddars, and grana padanos are not "salt crystals" as some suspect. Rather, they come from tyrosine, an amino acid found in cow's milk protein. When, during the aging process, the amino acid chains break down, tyrosine is released into the cheese, forming those amazing little crunchies!
Enjoy these Pairings With Us
These pairings are a truly remarkable way to experience our fine wines and the incredible cheeses that Sophie and Paul have scoured the world for, bringing the best that Europe has to offer here to our little town on the Central Coast. Come experience these pairings daily at our Claiborne & Churchill tasting room, open daily from 11-5, and when you are done, stop by Fromagerie Sophie on Garden Street and pick up some cheese to pair with wines at your next gathering!
Wine Tasting Flight:
$12 (Free for Cellar Club)
Cheese Plate with Pairing Guide:
$12 ($9 for Cellar Club)
Stay tuned for more cheese pairings!
Comments