A New Year, a New Look, and Two New Vintages
Here at Claiborne & Churchill, we want to wish you all a very happy, healthy start to your 2016! In the spirit of celebrating "the new", we have several announcements about exciting things happening at our winery in San Luis Obispo.
Renovated Tasting Room
We opened our straw bale winery here on the Central Coast back in 1996, and since then, we've grown a lot! For the last few years, we have put some serious elbow grease into expanding our garden area to accommodate more guests, and now we have an updated tasting room to go with it! Our indoor renovation includes a new feature wall and rolling barn door, both made with reclaimed wood from our old dairy barn. We now also have large crystal tasting glasses, new lighting, and a beautiful, custom stone-topped bar. Be sure bring your friends — with an expanded serving area, it's the more the merrier. Added bonus: Ladies, you'll be more comfortable than ever. (The new bar has hooks where you can hang your bags and coats!)
Now that our garden and tasting room are all ready for 2016, we'd love to host your next private event. Contact Angela at angela@claibornechurchill.com for details and pricing.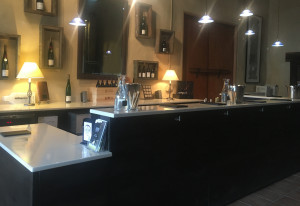 New Website
If you're reading this blog, you may have noticed that we recently overhauled claibornechurchill.com with the goal of making our website more usable, visually pleasant, and informative for you. Feel free to explore our site, and if you're new to our blog, check out some of our recent posts to learn about the 2015 harvest, recent events, and more.
Guest House Available for Vacation Rental
One of the more exciting pieces of news we have is that next door, we've been hard at work remodeling a two-bedroom duplex cottage on our property. Soon, it will be available for vacation rental! If you are from out of town, staying with us will be a marvelous way to enjoy the heart of wine country here in San Luis Obispo. Centrally located, we're only a five minute drive to Pismo Beach and a fifteen-minute drive to Cal Poly. Stay tuned for photos of the space and pricing information. Note: Club members will have access to a special, discounted price on accommodations!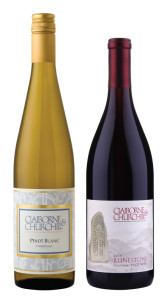 New Releases
This holiday season, we released brand new vintages of two of our most anticipated wines: 2013 Runestone Pinot Noir  and 2014 Pinot Blanc. Be sure to come by our tasting room for a pour of each of these exciting vintages.
To all our readers, Happy New Year, and we hope to see you soon!
Comments