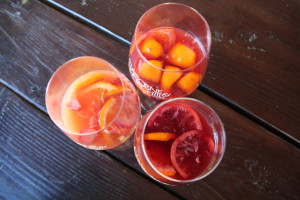 With the upcoming release of our 2015 Cuvée Elizabeth Rosé of Pinot Noir and 2014 Malbec, we decided to do some taste testing to find our favorite Rosé Sangria. Brook Thompson, our Wine Club Manager, made three different recipes for us to try. Below is the recipe for the undisputed winner. This delicious Rosé Sangria will be perfect for the upcoming spring and summer months! The dark color from the Malbec and pomegranate juice will set it apart from all the others. Let us know what you think of our recipe and feel free to share your favorite recipe with us!

Rosé Sangria Recipe
Ingredients:
750ml – 1 Bottle Cuvée Elizabeth Dry Rosé
6 oz Malbec
3 oz brandy
2 oz triple sec
1 oz limoncello
1 cup orange juice
1 cup pomagranate juice
1/2 cup sugar
1/2 cup blueberries
1/2 cup raspberries
1/2 cup blackberries
1/2 orange sliced
1/2 lemon sliced
Preparation:
Mix all ingredients together in a large pitcher. Continue stirring until sugar dissolves. Cover pitcher and refrigerate for 24-48 hours before serving. Add ice to pitcher upon serving.
For added sweetness, add frozen orange/pineapple juice cubes in lieu of ice.
Comments