For over 30 years in California's Edna Valley, we have quietly produced what is considered one of the most dependably delicious Dry Rieslings this side of Alsace, France. Always erudite, educational and entertaining, our founding winemaker Claiborne Thompson shares what he's discovered about what many consider to be "the world's greatest white winegrape."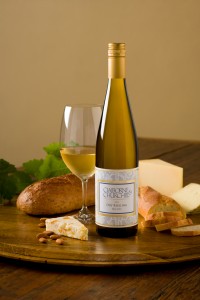 Is Riesling a German word? Any idea what the root of the word is, or its meaning?
Its name is a bit of a puzzle. It's possibly related to the German word reissen, "to tear, to carve, to cut," but attempts to explain this connection are pretty lame.
Where does the Riesling grape originally come from?
It's origin is no doubt to be found in Germany, specifically the Rheingau. There is a reference to "riesslingen" vines in a document from 1435, written by a cellarmaster with the amusing name of Klaus Kleinfisch ("Littlefish") to his boss, the Count of Katzenelnbogen ("Cat's Elbow"). The whole story sounds to me like a Mel Brooks comedy sketch.
Do you know how old it is?
Really old, probably going back to Roman outposts along the Rhine.
How did you get into Riesling?
Well, both my wife Fredericka and I have connections to Germany, and Riesling is the German grape par excellence.  I first visited Germany when I was 17, so my first wine experience was with Riesling. Fredericka's mother is German (from the Rheinland), so she no doubt has a bit of Riesling running through her veins.
How does Alsatian-style Riesling differ from German Riesling?
When we started Claiborne & Churchill, we took our inspiration more from the (once German, now French) province of Alsace, across the Rhine from Germany. In Alsace, Riesling is king; it is the most planted varietal there, and nowhere else in France do they allow it to be grown. The Rieslings from Alsace tend to be drier, more structured and full-bodied than those in Germany. They are definitely not "sweet sipping wines." (Having said that, it must be pointed out that these days German Rieslings are getting drier and drier.)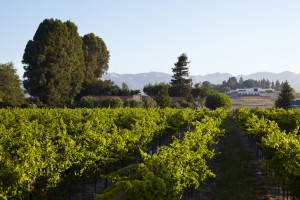 Where does C&C Riesling come from?
At Claiborne & Churchill we source our Riesling grapes from two regions: (1) our own Edna Valley, including our Estate Vineyard, and (2) Monterey County, specifically the Arroyo Seco area, where cold weather produces intensely aromatic grapes.
What are some typical aromas and flavors associated with wine made from Riesling?
One of the great things about Riesling wines is how they reflect a sense of place, of terroir if you will. But what all Rieslings have in common (if grown and made properly) is an abundantly floral and fruity aroma in the nose and a wallop of bracing acidity on the palate. In its youth you might find hints of apple blossoms, of peaches, of honey. As a Riesling ages it takes on more depth of flavor, and often develops a bouquet referred to by the off-putting word "petrol."

What are the challenges to making it?
Riesling is a bit of a challenge to grow, because it is a late ripener and fairly susceptive to rot (including the precious "noble rot"). The grapes need to be pressed slowly and long, to get the best juice. Fermentation should be cold.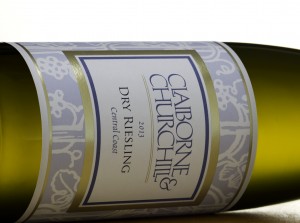 How long between pick, bottling, and release?
Riesling can be bottled relatively soon after it is made, but it needs a bit of aging before release. It is unfortunately true that most Rieslings are released too early (including ours) because people prize the youthful fruitiness more than the more profound flavors that the patina of age gives. Oh well, each to his own!
How do you most enjoy Riesling?
Riesling is famous for being the most versatile of wines and the most food-friendly. We enjoy it by itself as an aperitif wine (especially if it has a tiny touch of residual sugar), but it really stands out on the dinner table. I love it with poultry (Chicken in Riesling is a standard Alsatian dish), and fish, particularly shellfish. I think Dungeness Crab and Dry Riesling is a match made in heaven.

What other regions are making Riesling that you enjoy? (New Zealand, South Africa, Australia, etc)
Outside California, Germany and Alsace, good Rieslings can be found in Oregon and Washington, in the Finger Lakes region of New York , and in Australia. Each Riesling bears the hallmarks of its place of origin.
We will be releasing our 2014 Dry Riesling on May 1st 2015.
Comments