Do you love Riesling, "the world's greatest white grape"? Well we do! And we celebrated it on Friday, June 20, with our inaugural "Romance of Riesling" event here in the garden at Claiborne & Churchill.
For the first time ever, we focused on only one grape varietal for an entire dinner/tasting/seminar. I should mention that we started the evening off with our 2012 Sparkling Blanc de Blancs; I can't think of a better way to start a celebration!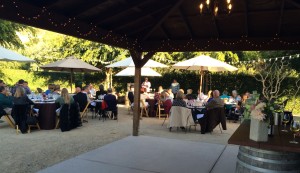 Our dynamic duo, Owner Clay Thompson and Winemaker Coby Parker-Garcia guided guests through a pairing of Rieslings and tapas. Chef Russ Thomas of Two Cooks artfully prepared the five delicious courses. (see menu below)
Crab Snap Salad on Crunchy Yukon Gold Chip
Apple, Celery, Lime, Parsley, Lipstick Pepper, Shallot, Tarragon Aioli,
Pickled Chili & Lemon Cucumber Garnish
2013 Dry Riesling
Grilled Shrimp with Asparagus Purée
Garlic, White Wine, Flat Leaf Parsley, Bolio Toasts
2011 Dry Riesling
Vegetarian Sushi
Soy Paper Wrapped: Red Miso Glazed Shiitake Mushrooms, Pearl &
Black Rice, Daikon Radish, Hoisin Chili Sauce
2008 Dry Riesling
Duck Canapé
Coriander Rubbed Pan Seared Duck Breast, Caramelized Shallots,
Crispy Won Ton Skins, Ginger Vinaigrette
2005 Dry Riesling
Cabbage Rolls
Chorizo and Pork Stuffed Cabbages, Pine Nuts, Raisins in Beef Broth
2012 Estate Dry Riesling

Clay & Coby opened their discussion to Q&A where they and our guests delved deeper into each vintage.
Guests were able to experience first hand what contributes to Riesling being the "world's greatest white grape": it's made in a variety of styles, from ultra-dry to a sweet desert wine and everything in between! And it is so extremely versatile that it pairs with a wide variety of cuisines!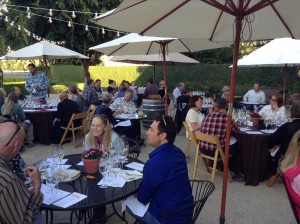 We continued this educational journey with a tour of our Estate Riesling Vineyard where Coby educated our guests on its SIP Certification (Sustainability in Practice) and its ability to grow in a cool-climate region such as ours here in San Luis Obispo wine country. This was the perfect opportunity to highlight our 2010 Estate Dry Riesling, which we bottle aged three years prior to its release. Many of our guests were surprised to learn that Riesling has great aging potential due to its naturally high acidity and pronounced fruit flavors. Aged Riesling exhibits wonderful nuances and complex flavors of petrol, diesel and minerality and our 2010 displayed this so well!
Pairing in the Vineyard:
Gourmet Artisan Cheese (from our local cheese shop, Fromagerie Sophie)
Ducket's Caerphilly and Pont L'Eveque
2010 Estate Dry Riesling
We concluded the evening with a final pairing in our eco-friendly strawbale cellar/tasting room. This was definitely the icing on the cake!
Dessert Pairing:
Brown Butter Sea Salt Cookie (from our local Brown Butter Cookie Company)
Shortbread Cookie with Browned Butter, Brown Sugar and Sea Salt
2013 Riesling, Oliver's Vineyard
2011 "Nektar" Estate Late Harvest Riesling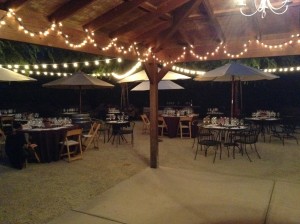 Thank you to all of our guests. This was an amazing evening of delicious food, great wine, and good company! We look forward to more unique interactive tastings of this type.
Please visit our website to keep up-to-date with upcoming events and new wines.
Join our Club to receive discounts and priority seating at such events!
Comments