Spring is on its way, and that means one of our favorite events of the year is around the bend! If you have never attended our annual Claiborne & Churchill Wine Library Weekend, you're in for a treat. We're pulling out our favorite vintages from the last decade – wines that have been waiting for their perfect moment to shine! Our Wine Library Winemaker Dinner on Friday, March 11 with Executive Chef Russell Thomas of Two Cooks Catering on Friday, March 11 is sold out, but we still have tickets left for our other events that weekend. We will be showcasing dozens of library wines over the course of the weekend. Below are a few of the wines we are most excited about!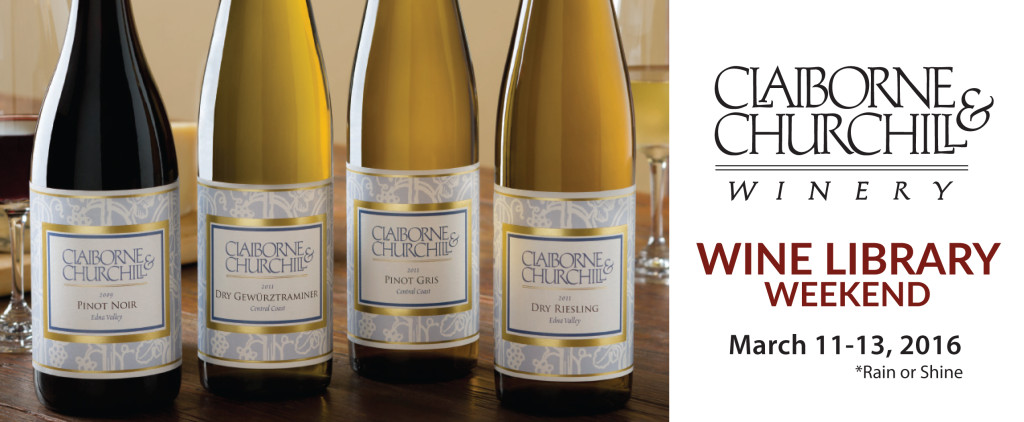 2006 Pinot Gris
Contrary to the belief of many, certain white wines, when made and stored well, have remarkable aging potential. This is one reason why we are so excited to show off a 2006 Pinot Gris — one of the older wines we'll be showcasing during the Library Grand Tasting! When this wine was released a decade ago, it was youthful and fresh with stone-fruit aromas and flavors. But as a good Pinot Gris matures, it takes on increasingly smokey and nutty nuances. This is a wine you'll want to experience for yourself.
2007 Dry Gewürztraminer
If you've any spent time around Claiborne & Churchill, you know our deep love of Gewürtztraminer, a wine we usually serve in its youth. When young, Gewürz is aromatic, fresh, floral, and bright. In its later years, the complexity of the varietal is showcased, giving off a golden-hued color with spicy aromas, rich flavors of passion fruit, and a legendary long finish. Aged Gewürztraminer is one of the more unique tasting experiences we offer.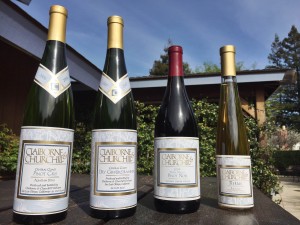 2008 Classic Pinot Noir
If you've wondered about the aging potential of our Pinot Noir, the 2008 Classic Pinot is the proof you are looking for. This wine won plenty of awards in its early days, showcasing ample fruit and a deep garnet color while maintaining a restrained elegance. With 8 years of bottle age on it, the 2008 Classic is burgundy-brown with herbaceous aromas and flavors of cranberry skins, pomegranate, and brown sugar. The long finish is smooth and velvety. This is a Pinot in its prime!
2006 Nektar (Late Harvest Riesling)
Are you on the fence about dessert wine? There is no better time than at our tasting to experience the remarkable, time-honored tradition of a fine, aged Late Harvest Riesling. Made in a style of an ice wine, our 2006 Nektar was pretty special at the time, and is even more exceptional after ten years of maturity in the bottle. Golden in color with a creamy and balanced mouthfeel, the 2006 Nektar has aromas of apple pie and flavors of cider and ripened peach. These wines are just a handful of the diverse offerings featured at our upcoming Wine Library Weekend. If you are interested in trying these wines and more, join us March 12-13 at one of our featured events! Ticket information below.
---
Upcoming Event: Claiborne & Churchill Wine Library Weekend
March 11-13, 2016
Wine Library Grand Tasting
March 12, 2016, 1-4 pm
Experience a tasting showcasing the best vintages of our library wines. You'll have the opportunity to taste from among two dozen white and red wines which have been carefully cellared for several years. Love what you tried? You'll also have the opportunity to purchase these wines and bring them home with you!
Price $15 Club | $25 General Admission → For Tickets, please click here.
Wine and Cheese Pairing (Featuring Library Wines)
March 13, 2016, 1-4 pm
"Wine down" on Sunday in our garden patio with a flight of library wines and a gourmet cheese plate featuring artisanal, European cheeses curated by Fromagerie Sophie. Each cheese has been specially selected to pair with these stellar library wines, poured at the peak of their aging potential. Don't miss this special event!
$15 Club | $20 General Admission → For Tickets, please click here.
---
The Guest Cottage at Claiborne & Churchill is available for our Wine Library Weekend!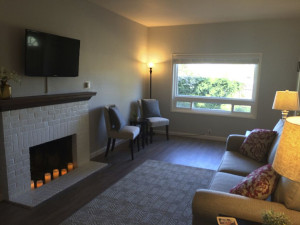 The Guest Cottage at Claiborne & Churchill Winery is conveniently located in the heart of wine country, just minutes from historic San Luis Obispo, the charming village of Arroyo Grande and the oceanfront town of Pismo Beach.  This charming two bedroom one bath guest house offers picturesque vineyard and mountain views and is the perfect place to relax and "wine-down". Please visit VRBO/Homeaway Listing #820452, or email elizabeth@claibornechurchill.com for rates and more information. Claiborne & Churchill Cellar Club members will be offered a special, discounted price on their stays.
Comments