In a way the 2017 Spanish Springs Grenache and the 2018 Edna Valley Syrah bookend the 2017 Spanish Springs Syrah/Grenache blend. You have the blend nestled between the two single varietal bottlings if you will. If you have the occasion to open all three bottles together you can investigate what each varietal is like on its own as well as how they interact. Many of you will be opening these wines individually so each will be addressed in and of itself. If I were to taste all three it would be in the following order.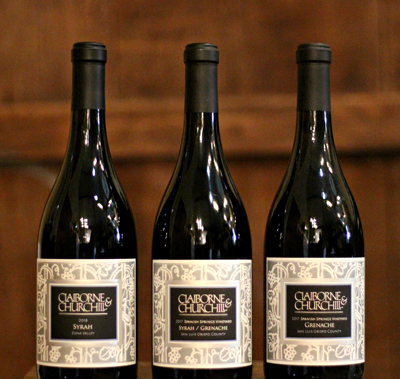 2017 Spanish Springs Grenache – This vineyard located hard up against the final hills that separate the Edna Valley from the ocean has sandy soils and very cool and foggy coastal weather. This always results in a late harvest, and flavors which are vibrant and exciting. Grenache tends towards a floral/herbal aroma that is lovely when young. There are hints of orange zest, black pepper, and smoke that lead into flavors of fresh blue fruit and confectionary notes. This wine will be best with food during its youth.
2017 Spanish Springs Syrah/Grenache – In its native habitat, the Rhone Valley, Syrah and Grenache are rarely bottled as single varietals. They're almost always blended with each other and an assortment of other reds and a few whites. The Syrah adds seriousness to the more exuberant Grenache, or you could think of the Grenache as giving the Syrah a sense of humor. Either way they make a cute couple. The aroma is dominated by dried herbs and leaves in a pleasantly autumnal way. The flavors are surprisingly bright with fresh red and black berry tones layered over some floral. It's a perfect medium weight which will improve with 3-5 additional years of bottle age should you so choose.
2018 Edna Valley Syrah – For the past few years we have made this bottling from fruit grown on the Wolff Vineyard on the far west side of Edna Valley. This vintage we livened it up by adding a single barrel of Spanish Springs Syrah to the twelve-barrel blend. The '18 growing season was exceptionally cold and late, but because of the dry farmed nature of the vines the wine has both ripeness and freshness – an unusual and charming combination of traits. Despite its youth this wine is ready to drink due to its broad and soft palate. It has a lovely combination of fruit, spice, and savory aspects. It may very well age gracefully as well, but it's so tasty now I doubt any will survive into middle age.