We are finally starting to feel the spring weather on the Central Coast. It is so refreshing after the winter season we've had. The region was refreshed after the years of drought with many storms. These storms were great for our dormant vines. It flushed the toxins and salts in the top soil lower past the root zone and replenished our water storage. The recent sunshine has left the hills of the Edna Valley so green and wildflowers are starting to bloom. As the cherry trees are filled with flowers, we know something else is coming: bud break. In this post, we want to share what has been happening in the vineyard since Harvest 2016.
After Harvest:
As we were finishing up all of the hard work that goes into harvest, we began to prepare the vines for the upcoming winter season. The vines had been under a lot of stress from producing the fruit we use to make our wines. We give them some water and nutrients over the next two weeks to relieve the stress and flush out the roots. The vines then enter the dormancy stage for winter. This process is what all perennials go through and resembles hibernation where little energy is used.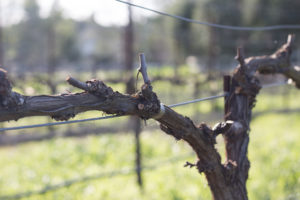 Pruning
In late February through mid March, we begin to think about pruning the vines. We try to wait as long as possible to prune to avoid any frost damage. We are able to do this since we have so few acres. It doesn't take much time to get through all of our vines! If you did not prune, you would end up with more clusters but they would be smaller. We choose to cut back last year's growth to be more selective on where the energy on the vines is going.
Bud Break
After pruning, we expect to see bud break happen in about two weeks. Our buds have just started to burst from the warm weather we had over the past weekend. Bud break is seen first in the Santa Maria and Arroyo Grande valleys, then in the Edna Valley, and lastly in Paso Robles.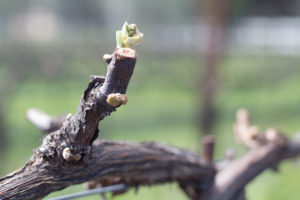 Preparing for Harvest:
In the next few weeks, we will be mowing down our cover crop and disking it back into the soil. We planted the barley between the rows to to keep the topsoil from eroding and add nitrogen back in to the soil. It also attracts beneficial insects and kept good soil structure with all the rain. We will start to see rapid growth on the vines as leaves begin to form. After that, we will see flowering then berry fruit set. Then, the berries will begin to grow and the red varieties will undergo veraison, when the berries change color from green to red. Before we know it, the fruit will be ready for 2017 Harvest!